3M Scotch-Brite Satin Pleated Buff Wheel, 14"x 2"x 1-1/4", 60280
Regular price $53.63 Sale
Pleated design helps reduce the potential for streaks or blemishes on the workpiece
Pleated design acts as a ventilation system, helping the abrasive run cool
Available in fine (FIN) and very fine (VFN) grades to produce a soft, satin finish on most metals
Minimizes need for cleaning chemicals and pastes
Open web is load resistant to minimize clogging and prolong abrasive service life
Specifications
| | |
| --- | --- |
| | |
| | |
| | |
| Center Hole Diameter (Metric) | |
| | |
| | |
| | |
| | |
| | |
| | |
| | |
| | |
| | |
| | |
| | |
| | |
| | |
Scotch-Brite™ Satin Pleated Buff Wheel has pleated abrasive flaps designed to produce a soft satin finish on most metals.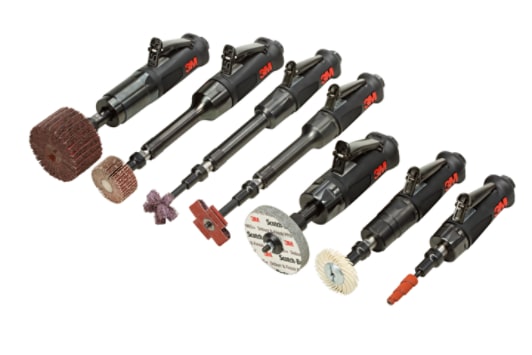 3M™ Die Grinders
Advantages of a Pleated Design
Scotch-Brite™ Satin Pleated Buff Wheel was designed with pleated nonwoven flaps attached to a steel or fiberglass core in a wave-like pattern. It can lightly finish, deburr and blend on most metals. The benefits of a pleated design are twofold. First, the spacing between the pleated layers ventilates the abrasive as it finishes. Air circulates between the layers, helping the abrasive run cool. Second, the wavy pattern decreases the potential for streaks. Other stacked discs have a slight gap between them, but the springy layers of pleated abrasive curve and undulate to ensue no gaps. Lines or traces that may result from stacked discs are eliminated.

The fibrous layers on the wheel respond to surface irregularities and conform to contours — to help maintain part geometry. Available in fine (FIN) or very fine (VFN) grades, the Scotch-Brite™ Satin Pleated Buff Wheel will deliver a fine satin finish on most metals and is commonly used on builder's hardware, such as faucet fixtures.

The Many Benefits of Open Web Abrasives
Nonwoven technology makes our Scotch-Brite™ industrial abrasives unique. A combination of fiber strands, resin, and abrasive mineral forms a thick, open web. The spring-like nature of the fibers responds to contours and effectively removes unwanted burrs, soils, and contaminants while maintaining the geometry of the workpiece, which in turn reduces rework and boosts productivity. Gaps in the web allow swarf to escape, so debris does not clog the mineral.

Fibers in the web continually break down with use to reveal fresh mineral for exceptional consistency, superior cut performance, and extremely long service life. Scotch-Brite™ products not only enhance productivity, but also increase operator safety by reducing the need for cleaning chemicals and pastes and replacing wire brushes that can break off and cause injury. From aesthetic finishing to deburring and more, Scotch-Brite abrasives work fast and deliver consistent results, part after part.