3M Scotch-Brite Metal Finishing Unitized Wheel, 6" x 1/2" x 1" 5A MED
Regular price $37.04 Sale
Product Details
Strong, durable unitized construction good for blending
Available in small diameters and narrow widths for hard-to-reach areas
May be used on a variety of metals, including bronze, aluminum, stainless steel, copper and brass
Non-directional unitized wheels may be run clockwise or counterclockwise
Helps deliver brushed and satin finishes on a variety of metals
The Scotch-Brite™ Metal Finishing Unitized Wheel combines the durability of cured open web with fast yet soft cutting action, rendering it a good wheel for finishing, blending and polishing, especially on hard-to-reach areas.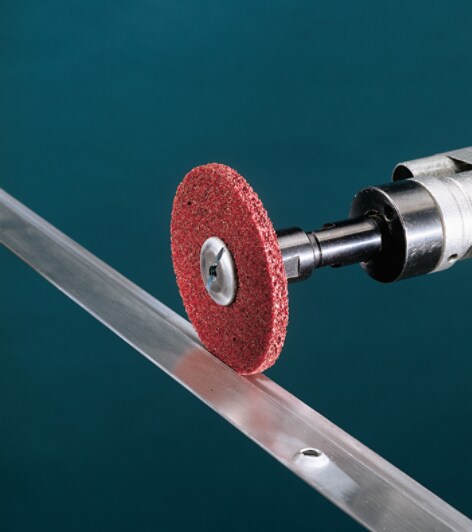 Creates a consistent satin finish
Good for Finishing, Blending and Polishing
The Scotch-Brite™ Metal Finishing Unitized Wheel is engineered by layering open web material, comprised of non-woven nylon fibers, aluminum oxide and resin, and compressing it. The compression enhances overall abrasive durability; it strengthens the wheel's ability to swiftly and effectively tackle tough blending applications. Aluminum oxide mineral interspersed throughout the open web cuts sharp but leaves a fine, soft finish. Together, these attributes make Scotch-Brite™ Metal Finishing Unitized Wheel a good match for finishing, blending and polishing.
Typical applications for this Scotch-Brite™ wheel might include weld cleaning and blending in stainless steel tanks, finishing and blending builders hardware and generating a grained finish after weld blending. Unitized wheels may be used to blend and match #3 or #4 mill finishes on stainless steel and to create brushed or satin finishes on cutlery. On softer metals such as aluminum, copper and brass, they are used to blend out minor surface imperfections and handling marks while providing a decorative finish.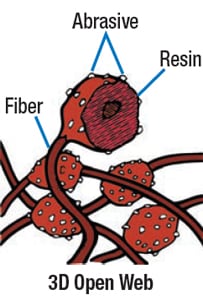 Durable and Aggressive
Customers choose Scotch-Brite™ wheels because of their ease of use and consistent results. Available in convolute and unitized designs, each of these wheel types offers unique benefits. Metal finishing unitized wheels offer the same finishing capability of metal finishing convolute wheel. However, the layered construction of unitized wheels makes them more aggressive and durable, slightly less conformable than convolute wheels. Additionally, unitized wheels are non-directional, so they can run clockwise or counterclockwise. The "edge" of the web becomes the cutting side, and the wheel is used with tools like
 inline sanders
, bench motors, backstands and
 die grinders
.
Scotch-Brite™ Unitized Wheel performance differences can be attributed to mineral (aggressiveness) and density (hardness). The combination of these two characteristics and subtle variations determine if the wheel will cut more aggressively or will be more durable and less conformable. Depending on their application, users can select the right combination for their unique project needs. The Scotch-Brite™ Metal Finishing Unitized Wheels are available in small diameters and narrow widths. In essence, they provide durability and value for finishing of parts that are too narrow, tight or small to finish efficiently with wider width wheels, so you can still tackle those tough areas and achieve a fine finish. 
Specifications
Attachment Type

Center Hole Diameter

Center Hole Diameter (Metric)

Converted Form

Diameter (Metric)

Equipment - Machines

Inline Sanders

, Manual Backstand

Form Type

For Use On

Aluminum

, Soft Metals

, Stainless Steel

Max RPM

Mineral Type

Product Form

Sub Industries

Builders Hardware

, Medical Instruments

, Metal Fabrication

, Metal Implants

, Plumbing Fixtures

, Turbine Engines

Aluminum

, Soft Metals

, Stainless Steel

Width (Metric)