3M Polyester Tape 8991 Blue, 2 in x 72 yd 2.4 mil
Regular price $18.61 Sale
Details
Works in demanding conditions and high temperatures ranging from -60ºF (-50ºC) to 400ºF (204ºC)
Clean removal during high-temperature masking operations such as powder coating
Polyester film offers excellent thermal and chemical resistance while maintaining flexibility
Silicone adhesive provides clean removal from a variety of surfaces
Translucent blue backing provides easy identification and positioning
Thin and conformable, our 3M Polyester Tape 8991 is a general purpose tape that excels in high temperature masking operations such as powder coat painting. Coated with a silicone adhesive, this tape bonds to a variety of difficult surfaces. It is chemical resistant and performs under a wide range of temperatures and environments.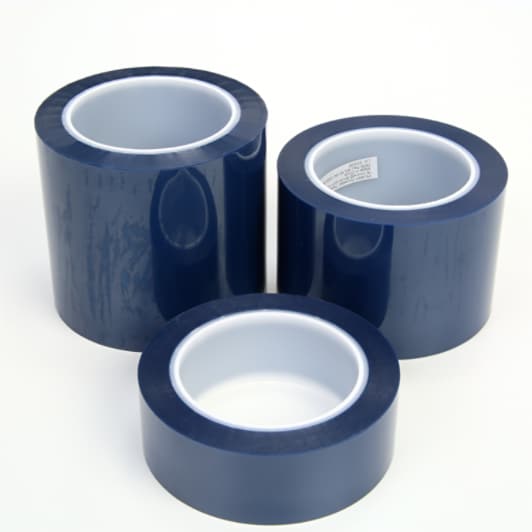 3M™ Polyester Tape 8991 is available in a variety of sizes
Meets the Demands that Come with High-Temperature Applications
The 3M™ Polyester Tape 8991 is engineered as a pressure-sensitive silicone adhesive that grabs on contact and offers high heat resistance, reducing failure due to softening, oozing and adhesive transfer. This high-temperature tape is also designed with a thin polyester backing that resists shrinking, curling, tearing and edge lifting, offering reliable masking and consistent results. With a 1.0 mil polyester backing and 1.4 mil silicone adhesive, this tape features sharp, clean paint lines and provides excellent thermal, abrasion and chemical resistance while maintaining flexibility. In addition, 3M™ Polyester Tape 8991 removes without leaving behind adhesive residue, for a clean finish. Our Polyester Tape 8991 performs up to 400°F/204°C and adheres well to tough-to-stick-to surfaces like silicone liners and fixtures coated with mold release.
Recommended Applications
3M Polyester Tape can be used in many applications, including:
Masking in e-coating, electroplating and anodizing
Masking for powdercoat painting
Flashbreaker tape when pulling through cured coating such as epoxies
Holding material, securing parts and sealing of vacuum bags during autoclave processes
Splicing, tabbing and roll closing difficult-to-stick surfaces such as silicone treated liners
Ready for High Temp Challenges
When you need a strong tape that will deliver reliable masking and sharp, clean paint lines in high-temperatures, the Polyester Tape 8991 is an exceptional choice. For optimal results for many applications, 3M™ Polyester Tape 8991 provides the strength, durability and clean finish you've come to expect from 3M tapes.