3M Cloth Belt, 37"x 60", 577F
Regular price $86.90 Sale
Alumina zirconia mineral with a grinding aid provides more cutting power than aluminum oxide across all metal types
Heavyweight cloth backing provides durability for high-production environments
Tough alumina zirconia abrasive mineral cuts fast and performs well on many substrates
Available in a range of sizes and grades
Specifications
Blending/Deburring

, Dimensioning/Descaling

, Finishing/Polishing

, Grinding/Metal Stock Removal

, Sealant Corrosion Removal

Deburring

, Finishing

, Grinding

, Surface Preparation

File Belt

, Narrow Belt

, Portable Belt

, Wide & Flat Finishing Belt

Bench Top Motors

, Centerless Grinders

, File Belt Sanders

, Inline Sanders

, Manual Backstand

, Stroke Sanders

, Wide Belt Sanders

Aluminum

, Brass

, Bronze

, Carbon Steel

, Cobalt & Nickel Alloy

, Copper

, Hardened Steel

, High Nickel Alloy

, Soft Metals

, Stainless Steel

, Titanium

, Titanium/Zirconium

, Zirconium

Aerospace

, AOEM

, Metalworking

, Primary Metal

122 cm

, 152.4 cm

, 183 cm

, 190.5 cm

, 30.5 cm

, 335 cm

, 39.4 cm

, 45.7 cm

, 52.1 cm

, 61 cm

Other Door Assembly Applications

0.64 cm

, 1.27 cm

, 1.9 cm

, 10.2 cm

, 15.2 cm

, 2.54 cm

, 5.08 cm

, 6.35 cm

, 7.62 cm

, 8.9 cm

, 94 cm

Fabric Splice

, Film Media Splice

, Sine Wave Splice

Builders Hardware

, Medical Instruments

, Metal Fabrication

, Metal Implants

, Plating & Polishing

, Plumbing Fixtures

, Turbine Engines

Aluminum

, Brass

, Bronze

, Carbon Steel

, Cobalt & Nickel Alloy

, Copper

, Hardened Steel

, High Nickel Alloy

, Soft Metals

, Stainless Steel

, Titanium

, Titanium/Zirconium

, Zirconium
The 3M™ Cloth Belt 577F features alumina zirconia abrasive grain for increased cutting efficiency over aluminum oxide belts, and is backed with a heavy, water-resistant polyester backing that stands up to high-pressure applications and edge work. The durable backing ensures long life and supports both wet and dry operations.
Grinding Aid Helps Abrasive Run Cool 
We recommend 3M™ Cloth Belt 577F for use on aluminum, mild steel, and stainless steel or other exotic metal alloys for dimensioning parts, deburring, blending, and finishing castings and forgings. To protect heat sensitive alloys such as stainless steel, nickel alloys and cobalt alloys, we incorporated a grinding aid on the belt reduces running temperatures. Additionally, the abrasive is firmly bonded to the backing with resin to maintain durability under high heat and pressure. Alumina zirconia fractures frequently to continually produce sharp points and deliver a faster cut-rate than aluminum oxide. A synthetic mineral, it was developed for heavy stock removal and high pressure grinding.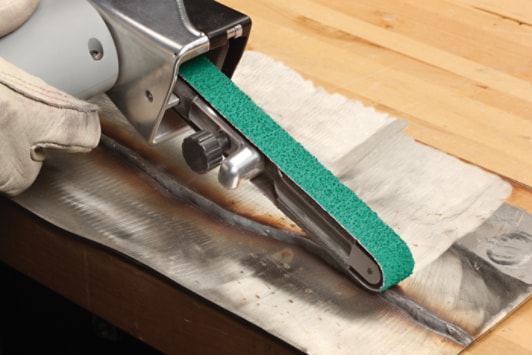 Narrow belts can be used on file tools for right angle corners and finishing
A Versatile Selection of Belt Sizes 
Abrasive belts come in many different widths and lengths and are used on a variety of different belt sanding tools for many different metalworking applications. 3M offers a broad selection of belts to fit most any industrial belt sander. Wider belts are used with wide belt sanders for flat finishing—to smooth rough cut edges of metal sheets, or add a grain pattern to stainless steel sheets. Medium-width belts are generally used on a backstand for weld removal or on a feed-thru style flat finisher for imparting a finish on sheets or coils. Narrow belts can be used on backstands for grinding and finishing, or on file tools to access right angle corners for finishing.